We Bulk Bill CDBS
Child Dental Benefits Schedule
The Australian Government covers the cost of basic dental services for about 3 million children aged 2 to 17. The Child Dental Benefits Schedule (CDBS) is a scheme run by Medicare that provides eligible children up to $1,000 over 2 calendar years to pay for a range of dental services. It's aimed at families who are already receiving other benefits, such as Family Tax Benefit A payments.
If your child is eligible, the CDBS will cover dental services including examinations, routine cleaning, repairing cracked teeth, fillings and root canals. It doesn't cover orthodontic treatment (such as braces to straighten crooked teeth), any dental work that needs to be done in hospital, or cosmetic dental procedures (such as replacing missing teeth).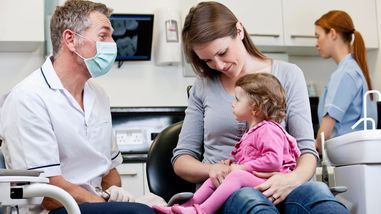 Who is eligible?
The CDBS is for children aged 2 to 17 who are eligible for Medicare and who also receive at least one of the following benefits:
• Family Tax Benefit Part A
• Carer Payment
• Disability Support Pension
• Parenting Payment
• Special Benefit
• Youth Allowance
• help under the Veterans' Children Education Scheme (VCES) if the child is 16 years or older
• help under the Military Rehabilitation and Compensation Act Education and Training Scheme if the child is 16 or older
In some cases, CDBS payments are made to parents, guardians or approved care organisations
Eligibility is assessed at the beginning of the calendar year. You or your child have to meet the requirements for at least one day of the year. If you or your child become eligible during the calendar year (for example, if your child turns 2 during the year), they will receive a payment for the whole year. Any money you don't spend in the first year will be carried over to the second year.

Public vs private dentists
Children who receive CDBS payments can receive treatment in any public dental clinic. The claim will be bulk-billed and there will be no out-of-pocket costs. You can also use CDBS payments to pay for some or all of the treatment at a private dentist. You can use all of the $1,000 at once, or spread it out over the 2 calendar years.
You may still need to pay some out-of-pocket costs if you choose a private dentist. Make sure you understand how much the procedure is likely to cost and whether there is likely to be any additional work needed. We will explain all the expenses to you before they start treatment.
We can check whether your child is eligible to receive CDBS payments and how much is remaining in their balance.
If you have private health insurance, you cannot claim a payment from your health fund and for a CDBS payment for the same treatment.
Get Full Checkup, Clean & X-rays
Exciting offers and discount for new patient